Elevate Your Home with Quartz Countertops: A look at the Benefits
September 20, 2023
Quartz Countertops are an excellent choice for your home
When it comes to kitchen and bathroom design, countertops play a starring role. They not only serve as functional workspaces but also contribute significantly to the overall aesthetics of the space. Among the various countertop materials available, quartz has been gaining immense popularity for its exceptional blend of beauty and practicality. We'll explore the numerous benefits of quartz countertops and why they are an excellent choice for your home.
Timeless Elegance: Quartz countertops are renowned for their stunning appearance. They mimic the natural beauty of stone, offering an elegant, high-end aesthetic that can elevate the look of any room. Whether you prefer a classic or contemporary design, quartz countertops come in a wide range of colors and patterns to suit your style.
Durability and Resilience: One of the standout features of quartz is its durability. It's engineered to be incredibly tough and resistant to stains, scratches, and heat. Unlike natural stone countertops like marble and granite, quartz doesn't require regular sealing or special maintenance. This makes it an ideal choice for busy households where spills and accidents are bound to happen.
Non-Porous Surface: Quartz countertops have a non-porous surface, which means they are highly resistant to staining. This feature is especially valuable in the kitchen, where spills of wine, coffee, or acidic substances are common. With quartz, you can simply wipe away stains without worrying about them seeping into the stone.
Hygienic and Easy to Clean: Quartz is a sanitary choice for countertops because it doesn't harbor bacteria or germs. Its smooth, non-porous surface is easy to clean with just mild soap and water, making it a practical option for food preparation areas.
Consistency in Color and Pattern: Unlike natural stone, where each slab can vary significantly in color and pattern, quartz offers uniformity. This consistency allows you to choose the exact look you want without surprises, and it's easier to match with your overall design theme.
Low Maintenance: As mentioned earlier, quartz countertops are relatively low-maintenance. They don't require periodic resealing, and their durability means they'll look as good as new for years to come. This makes them a cost-effective choice in the long run.
Environmentally Friendly: Quartz countertops are eco-friendly in the sense that they are composed of natural materials (quartz crystals) combined with resins. This reduces the need for quarrying natural stone, making it a sustainable choice.
Resale Value: Investing in quartz countertops can increase the resale value of your home. Potential buyers often view quartz as a premium countertop material, which can make your property more attractive in a competitive real estate market.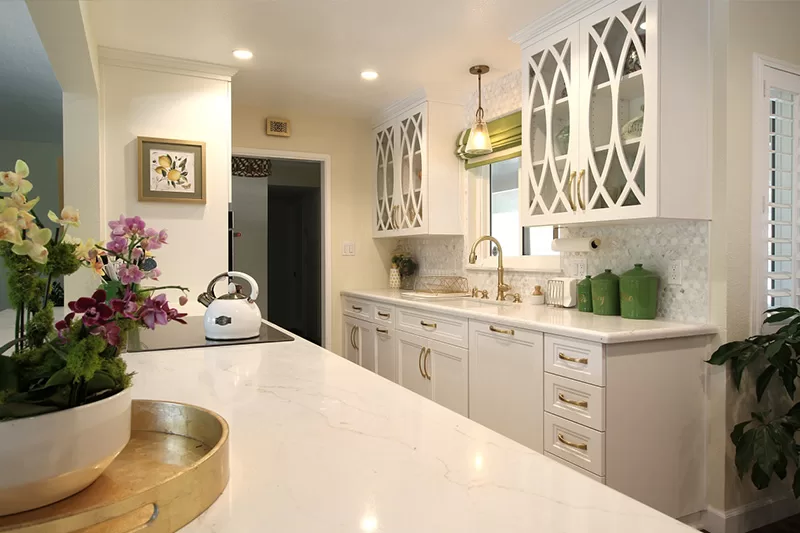 Quartz countertops are a versatile, durable, and beautiful addition to any home. Their ability to withstand daily wear and tear while maintaining their elegant appearance makes them a top choice for homeowners and designers alike. Whether you're renovating your kitchen or bathroom, consider the numerous benefits of quartz countertops and transform your living space into a masterpiece of style and functionality.
Kitchen Mart Is Your One-Stop Solution
At Kitchen Mart, your leader in countertop design and installation (Sacramento County, El Dorado County, Placer County, and Yolo County) we offer you Cambria, Silestone and Corian Quartz to name a few. We fabricate and install granite, quartz and natural stone and offer you full stone or tile backsplashes. As your full-service remodeling company, we offer you complete turn-key countertop management: removal and haul away, laser templating, fabrication and installation of your beautiful new countertops.
Learn more about quartz countertops here along with other countertop options. Countertop Installation – Sacramento & Rocklin – Kitchen Mart (kitchenmartinc.com)
Ready to explore new countertops in your home. Schedule your FREE in-home consultation or call us at (916)362-7080.
For additional inspiration check out some of our recent countertop replacement projects.
For kitchen and bathroom design ideas and to experience our quality countertops, cabinetry and more, we invite you to visit one of our two design showrooms:
Kitchen Mart Sacramento at 3742 Bradview Drive in Sacramento.
Kitchen Mart Rocklin at 4381 Granite Drive in Rocklin.